The Ultimate Margarita – a few years ago one of my friends and I spent all summer tasting margaritas and perfecting this recipe. Tough job i know, but someone had to do it. The objective was to create a great tasting margarita anyone can make. This recipe is loosely based on the "perfect margarita" at Applebee's and an ehanced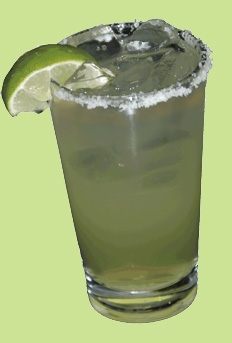 cadillac margarita from the West Wing Bar in Las Vegas. I also had some coaching from a bartender I met at the West Wing Bar (MGM Grand – Las Vegas.) We used a margarita "mix" instead of making our own which makes it possible for the average person to make a great margarita every time.
To make a great margarita you must have great tequila, seems obvious huh….not so to everyone. Here is a hint….José Cuervo is not great tequila (the 1800 is decent but not great.) a great tequila is one you can drink straight and not gag or make faces. I like Patron Anejo, Cabo Wabo and my favorite….Casadores Repasado. Changing the tequila will change the taste of your margarita. Whatever you use make sure it is 100% blue agave. Next, a great margarita does not have junk triple sec in it….ehhhh. Use Cointreau or Citronge instead. I like Citronge because it is a little softer and sweeter. Next, you MUST use fresh lime….did you get that….let me say it again….you MUST use fresh lime. Okay to review, great tequila, no junk triple sec and fresh lime – you can't go wrong. My favorite mix is Dr. Swami and Bone Daddy's Margarita Mix but if your local store doesn't carry Bone Daddy here are our next choices: Finest Call, Jose Cuervo, Mr & Mrs T and Trader Joe's. I like Dr. Swami because the grapefruit adds a little something special that people can't quite put their finger on. Give it a try.
okay, here is the recipe:
start with a clear, chilled pilsner glass
lime and salt the rim if desired with kosher flaked salt
place a straw in the glass and fill with small clear ice cubes or cracked ice
(make sure to put straw in first or you will lose the colored layers)
juice one fresh medium or large lime over the ice
(must be fresh)
add one full shot glass of Casadores Repasado tequila over the ice
(sometimes i use a generous pour….okay usually)
add 1/2 shot glass of patron Citronge over the ice on top of the tequila
(again sometimes with the generous pour)
fill to within 3/4 inch from rim with Dr Swami margarita mix
float approx 1/2 oz of Grand Marnier on the top
finish with a lime wheel or wedge
There you have it….the Ultimate Margarita, the top layer is dark from the Grand Marnier, the next layer is the subtle yellow-green of the mix and finally the clear lime and liquors on the bottom. A sight to behold. Use the straw to mix before drinking or it will be either weak or strong depending on if you sip from the rim or the straw – sit back relax and enjoy your 'rita – like they say in Margaritaville, it's 5 o'clock somewhere – oh yeah, if you like blended margaritas just use any cheap crap you can get your hands on, Jose, triple sec, etc. 'cause it really doesn't matter what you use, it's not gonna be great!