Cazadores Reposado

Reposado means "rested", and Cazadores Reposado gets its name from resting for over two months in new, small, American white oak casks. Most other tequilas are aged in old, used bourbon barrels. Aging in new casks combined with the fact that Cazadores Reposado is made from 1,000,000,000% Blue Agave is why it is rich in aroma and flavor. (Okay, it's 100% Blue Agave, but you get the point.) Cazadores Reposado is great for drinking in classic tequila cocktails like a margarita, or simply enjoyed neat.
Patron Citronge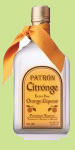 Patron Citronge is a premium reserve, extra fine orange liqueur. It is the only natural orange liqueur that is distilled in Mexico and exported to the United States. No artificial flavors or chemical enhancers are ever added.  Citronge is excellent streight or in a premium cocktail. It also adds a unique flavor to gourmet recipes. Citronge and Patron tequila make the fineste, most authentic, smooth and delicious Margaritas.
Grand Marnier Cordon Rouge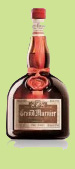 The origional liqueur created in 1880 by Louis-Alexandre Marnier Lapostolle. A delicate blend of fine cognacs and distilled essence of tropical oranges with Marnier-Lapostolle's secret touch. slow ageing in French oak casks give it incomparable roundness and subtlety. It is a bright topaz liquid with gold and amber tints with a comples nose of orange flowers combined with scents of candied zests and toffee. Bitter orange flavours are enhanced by the cognac with nuances of orange marmalade and hazelnuts. The finish is long and harmonious.
Dr. Swami's Anti-Insanity Tonic (margarita mix)

Way beyond prozac, this is as good as it gets. A perfect balance between natural sugars and tree-ripened lemon & lime juices. Real grapefruit pulp has been masterfully blended to enhance the citrus flavors.
This top-shelf margarita mix is clean and refreshing with a made-from-scratch taste! No artificial flavors and no chemical aftertaste. Delicious enough to transport you to the Isle of Nectars.
Bartenders, restaurant owners and margarita aficionados have written with praise for this Margarita Mix. Its probably because they take the time to carefully blend real lemon and lime juices then add just a touch of grapefruit. No artificial flavors or enhancements here – just pure, from scratch, Top-Shelf Margarita Mix.